During the recently-held WinDoor trade show, Canada's for boosting energy efficiency in buildingswas discussed during an educational session.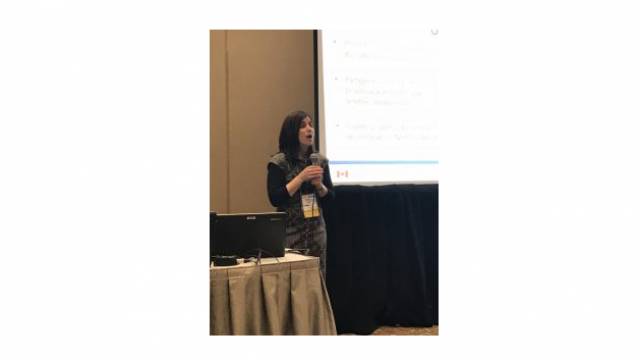 Debbie Scharf of Natural Resources Canada addresses WinDoor attendees
"I'm pretty sure we're not going to make everybody happy," is how Debbie Scharf, Director of the Equipment Division of the Office of Energy Efficiency at Natural Resources Canada, described the government of Canada's proposals for boosting energy efficiency in buildings. She spoke at an educational session during the recently-held WinDoor trade show.
The Pan-Canadian Framework on Clean Growth and Climate Change, which came out in December 2016 and seeks 30% of reductions in energy use through building efficiency, sets stringent goals that could mandate triple-pane windows in Canada by 2030. That huge market shift was a major concern for many in the audience.
"There are a lot of scared people out there," said one attendee during the Q&A session. "A lot of companies are going to disappear. This is almost unachievable for the average company."
Another attendee asked a particularly blunt question: "Are we going to take a whole lot of products off the market?"
Despite the concerns, Scharf repeatedly emphasized that nothing has been definitely decided yet.
"These are aspirational goals," she said. "They are around setting a direction in the marketplace. They are directional in nature. It's where we'd like to see the market go."
According to Scharf, Natural Resources Canada is committed to standards that are economically and technically achievable. It's working on market transformation strategies with provinces and territories. The regulations would be su...
expand