New Energy Technologies, Inc., developer of see-through solar cells for generating electricity on glass, has announced an improvement in its manufacturing technique that should lead to higher speed, lower costs and greater durability.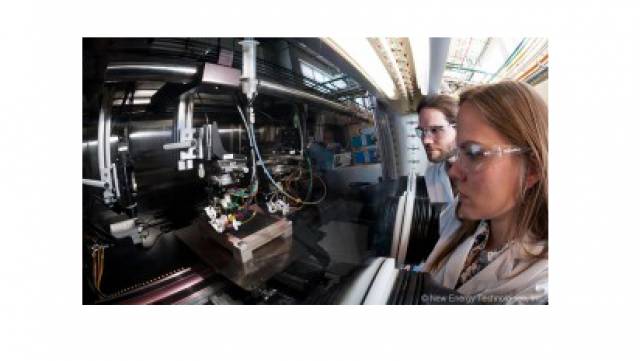 NREL Scientist, Dr. Heather A.S. Platt (foreground) and New Energy Principal Scientist, Dr. Scott R. Hammond work on SolarWindow™ Technology
Working with the US Department of Energy's National Renewable Energy Laboratory (NREL), New Energy Technologies Inc. has developed the use of low-cost materials and a special application technique that could help optimize the movement of electrons within ultra-thin solar cells. This should increase the amount of electricity produced when New Energy's see-through SolarWindow™ prototype is exposed to natural or artificial light.
Importantly, the improvement to the technology can be executed at ambient pressure and low temperatures, allowing researchers to avoid the use of materials that must otherwise be deposited using high temperature vacuum deposition. Vacuum deposition is both expensive and time-consuming and, thus, not practical for high speed and large-scale applications. Today's innovation promotes low processing temperatures, enabling high-speed roll-to-roll (R2R) and sheet-to-sheet (S2S) manufacturing. This large-area, R2R and S2S fabrication capability and improved durability of SolarWindow™ technology are crucial for production of market-ready electricity-generating coatings on see-through glass and plastic.
Previously, New Energy, with assistance from University of South Florida and NREL, developed important improvements to New Energy's SolarWindow™ technology, capable of generating electricity on see-through glass. These improvements include enhancements that address advancing durability, power performance, and cost-effective manufacturability – all importa...
expand