The Mayor of Wigan Borough, Councillor Susan Loudon, recently visited Thermoseal Group's expanding Warm Edge Spacer Manufacturing facility in recognition of the Group's growing contribution to the local economy.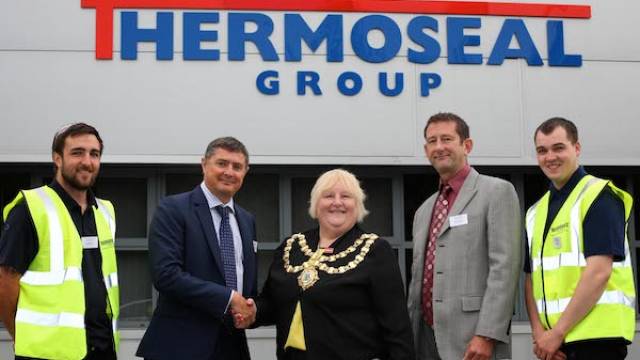 Mayor visits Thermoseal Group's spacer manufacturing sites
Leading UK component supplier Thermoseal Group established a manufacturing base in Wigan for production of energy efficient components, Thermobar and Thermoflex Warm Edge Spacers. This has led to the employment of 50 local staff and further growth of the manufacturing-base to supply to the increasing demand from export markets.
Thermobar (rigid tube spacer) and Thermoflex Warm Edge Spacer (a rubber compound) systems are becoming increasingly popular as they offer the highest thermal efficiency available, and are manufactured to Thermoseal Group's own exacting standards. Latest Bundesverband Flachglas (BF) data sheets certify Thermobar and Thermoflex with highest performance thermal conductivity values 0.14W/mK and 0.135W/mK and Passive House Ratings of phA and PhA+ (both Arctic Climate approved) respectively.
Thermoseal Group Wigan has grown to accommodate the increasing demand of these products from within the UK and now with these thermal efficiency ratings, both Thermobar and Thermoflex rival any multinational brand product available in the market. It is for this reason, they are becoming increasingly popular for export markets and are spurring further growth of this manufacturing facility that now occupies over 60,000 Sq. Ft.
This growth has also lead to an expansion of the Group's Birmingham-based injection moulding division to supply compatible warm edge energy-efficient components to be used in conjunction with Thermobar and Thermoflex.
Councillor Loudon said "It w...
expand