enjamin Krick, Head of the Component Certification working group at the Passive House Institute in Darmstadt, handed over the official component seal to Edgetech Europe GmbH for its flexible, foam-based Super Spacer systems during the recent BAU 2017 in Munich.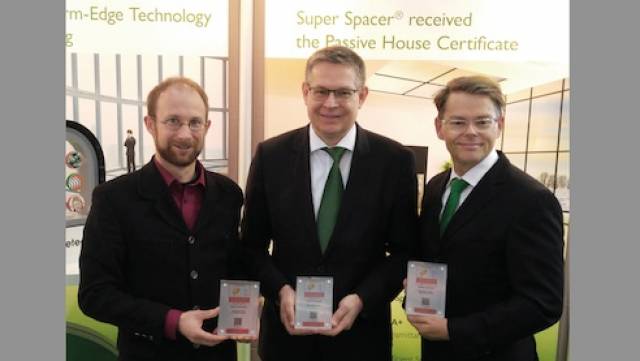 Edgetech Super Spacer receives award from Passive House Institute
Edgetech Managing Director Joachim Stoss personally expressed his gratitude for the award. "As an independent authority, the Passive House Institute provides architects and planners with guidance on all questions relating to energy-efficient and sustainable construction. Therefore, we are very pleased that we are now able to hold the component seal in our own hands following the successful Passive House certification of our Super Spacer warm edge spacers last January."
The Passive House Institute tests and certifies products in terms of their suitability for use in passive houses. At the moment more than 870 certified products are contained in the component database. In this process the Passive House Institute also makes the verified thermal characteristics visible, thus making it possible to predict the future energy performance of a building. All the three certified Super Spacer® spacers exceed the required minimum levels of specific edge resistance and are thus certified for arctic climates and every climate zone with lower requirements. The Super Spacer® Premium warm edge was classified in the highest efficiency class of phA+ with an edge resistance of 6.11 m K/W. This product also achieves the best values of up to 0.028 [W/mK] where the heat transfer coefficient ? is concerned. The Super Spacer® TriSealTM / T-SpacerTM Premium and Super Spacer® TriSealTM / T-SpacerTM Premium Plus were also certified.
"Components have to fulfil high requirements in terms of their energy ...
expand