The dimmable solar control glass from EControl-Glas (Plauen, Germany) provides shading without stopping all the daylight from entering the building. And with solar factors of below 10 percent it also effectively protects against overheating in summer. It is equally suitable for new buildings and for (energetic) building renovation.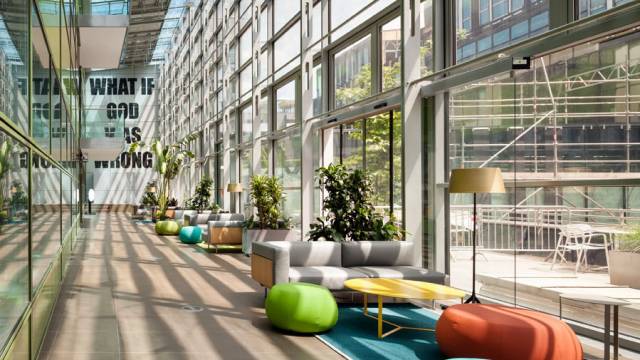 EControl dimmable glass gives improved energy usage for research institute's renovation
In 2015 the time had come for the research institute "IMBA" in Vienna to exchange the single-pane glazing of the south façade for the dimmable glass ECONTROL (insulation glass type 45/8).
Large window fronts and all-glass façades are not just attractive from the outside. From inside they also offer impressive views and light-flooded spaces, thus increasing their occupants' feeling of well-being. The disadvantage of large areas of glass: the solar energy input is often so high that, despite standard solar control glass, additional mechanical shades are needed to prevent the rooms overheating. But then external or venetian blinds block the view.

ECONTROL for pleasant room temperatures
The disadvantages of summer overheating were familiar to employees of the Vienna-based institute for molecular biotechnology, known as IMBA. Behind the single-pane glass frontage of the building's south façade the rooms became so hot in summer that concentrating on work became impossible. There was no way of shading the area, and in winter the single glazing offered little insulation. So in 2015, around 10 years after the building was constructed, it was time for the façade to undergo energy efficiency renovation. The goal here was to retain the glass atrium and thus the view of the outside. The planning for the renovations was done by architects from ATP Vienna.
The chosen design was for 770 square metres of the dimmable glass ECONTROL smart, which can either admit warming solar energy to the in...
expand