Lyon-based IRIS Inspection machines has sponsored an exhibition by Indo-British sculptor Anish Kapoor,to celebrate the company's 15th anniversary, as well as its installation of 1000 Evolution camera-based inspection machines throughout the world.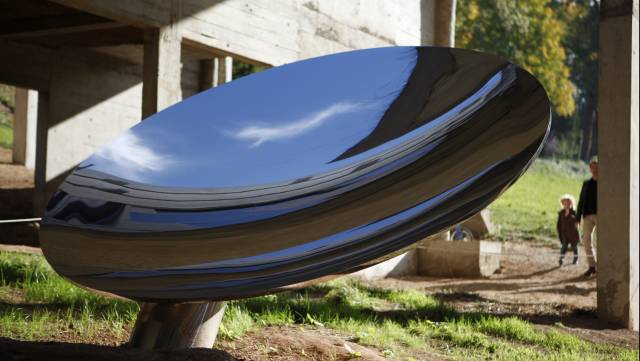 Artistic inspiration for IRIS optical R&D Engineering
The even was staged at the Dominican Convent of La Tourette on the outskirts of Lyon. Anish Kapoor is one of the most influential contemporary artists of his generation, using different types of mirrors in sculptures that combine simple materials, geometric shapes
and organic forms. Born in Mumbai, the Turner Prize winner has lived and worked in London since the early 1970s, when he moved there to study art, first at the Hornsey College of Art and later at the Chelsea School of Art and Design. Within his work, Anish
Kapoor plays with light and optics, employing giant convex/concave lenses, magnifying effects, deformating mirrors etc to create an array of optical effects. Sainte Marie de La Tourette was designed by contemporary French architects Le
Corbusier and Iannis Xenakis and was constructed between 1956 and 1960. The building makes extensive use of glass for its façades, providing variations in light that reflect perfectly on Anish Kapoor's sculptures.
The artist recently attended an inauguration of the exhibition together with IRIS CEO Jean Luc Logel, followed by a private viewing for IRIS personnel and their families. The event provided a unique source of inspiration for the company's optical R&D engineering experts as they strive to help customers in their quest for improved production efficiency via the ongoing development of advanced non-contact glass container inspection equipment.