Schott is offering a two-day interactive session to settle the question of whether glass or polymer is the best material for pharmaceutical packaging. The workshop will be held on Nov. 5-6 in conjunction with the PDA Universe of Pre-filled Syringes and Injection Devices conference.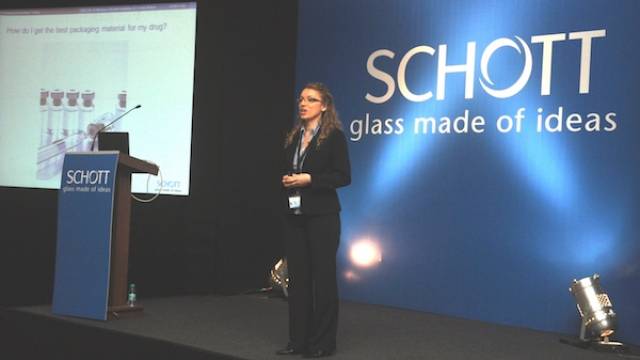 Schott experts lead workshop on Glass vs. Polymer for prefilled syringes
Led by Dr Bettine Boltres and Anil Busimi, "A Tale of Two Materials: What the Glass vs. Polymer Debate Really Means" will overview the strengths and weaknesses of each material and reveal why the question of glass versus polymer always depends on the user's needs for each application.
Day one of the workshop will focus on glass, covering its chemical and physical properties, hydrolytic resistance and surface alkalinity, as well as drug container interactions and how to prevent glass breakage. Day two will turn to polymers, providing an overview of polymer pre-filled syringe (PFS) solutions, materials and properties, and different applications and interactions. Day two will conclude with a discussion of how to evaluate whether glass or polymer PFS is best for a particular application, factoring in regulations, fill-finish operations, and the challenges of each material.
Schott's Dr Bettine Boltres, Product Manager Pharmaceutical Tubing, and Anil Busimi, Head of Product Management, Syringe Business, will share their glass and polymer experience with R&D, fill-finish, regulatory affairs, supply chain, marketing, and top management professionals.
"We hear the question again and again: Is glass or polymer the better material for pharmaceutical packaging?" said Busimi. "Especially as PFS solutions grow in popularity and packaging plays a larger role in drug success, the material must meet the needs of the drug and its delivery to patients. In this two-day session, we'll explai...
expand