NSG has released its new generation of transparent mirrors to be used in projected capacitive touch screen technology applications.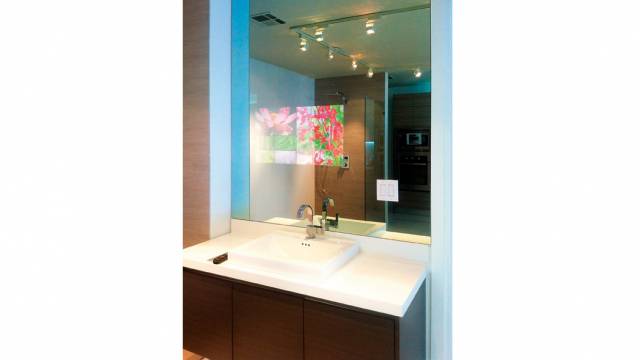 Interactive mirrors with Pilkington MirroView
Pilkington MirroView is one of the latest avant-garde products in the glass world.
Pilkington MirroView is a clear float glass on which a highly reflective coating is deposited. The coating has a neutral colour and is extremely durable. It is a non-conductive (dielectric) coating and allows the glass to be used in projected capacitive touch screen technology applications.
This product range is intended for installation in flat screen displays, such as TVs or touch screens.
Placed in front of a video source, when the device is off, Pilkington MirroView?maintains a mirrored appearance, hiding the screen. When the screen is turned on, the bright image on the screen is easily visible through Pilkington MirroView and the previous reflecting image disappears.
The improved coating has a very smooth surface for excellent tactile experience and offers a neutral colour rendering in reflection.
The pyrolytic coating, extremely resistant, does not degrade over time and gives the product a virtually unlimited lifetime.
The range is divided into two product types:
* Pilkington MirroView, designed for situations with reduced ambient light such as bathrooms, bars, etc., where it offers light transmission of 22% and reflection on the coated side of 66%
and
* Pilkington MirroView 50/50, whicj, due to the evolution of the product, is designed for applications in high brightness environments, such as shops, shopping malls, airport transit areas, railways, etc., and offers light transmission of 37% and...
expand