The glass viewing pod for British Airways i360, conceived and designed by Marks Barfield Architects, and constructed by Poma, is ten times bigger than the capsules on the London Eye.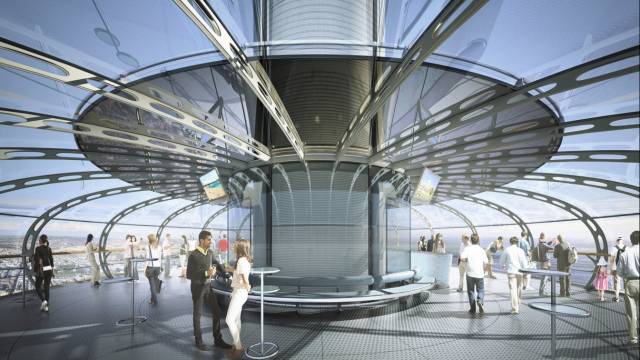 i360 Tower reaches another milestone 
The futuristic glass pod will allow 200 visitors at a time to enjoy the surrounding view as it slowly unfolds. It was topped out on Brighton beach in the UK on January 13, making way for the last phase of construction before opening this summer. At 162 m high, with an observation pod rising to 450 feet, the i360 will be the world's first vertical cable car, offering a new perspective on the seaside city of Brighton.
David Marks said, "It is incredibly exciting to see the pod finally take shape on the tower. The team from Poma have done a remarkable job, both in terms of the craftsmanship of the handmade pod as well their skilful and swift assembly."
Julia Barfield said, "This is an extremely important moment for us. The pod is completed and it looks stunning. The fluid form of the glass sits beautifully in its beachfront setting and the mirrored underside will cast reflections of the naturally shifting shapes of the sea and sky."
At 4.7m high and 18m wide, the pod will gently glide up to 138m (450 ft), offering a gradually unfolding view of Brighton and Hove, the English Channel and 26 miles of Sussex coastal landscape.
The next key project milestone will be when the team runs test flights for the pod in spring.