The MIT Media Lab's Mediated Matter Research Group has created the world's first Glass 3-D printer.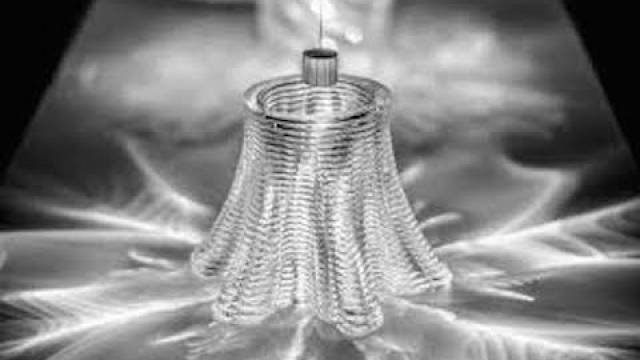 MIT Researchers develop world's first 3D glass printer
A team of researchers at MIT have recently demonstrated the first-ever machine that can print molten glass through a nozzle and make transparent glass objects layer by layer according to digital instructions. The most challenging aspect of printing glass is that it must happen at extremely high temperatures. Material must be kept at a temperature greater than 1000 °C to flow well enough to be extruded through a nozzle.
To achieve this, the printer needs separate heating systems for each stage of the manufacturing process. The molten glass ink is housed in a crucible above the nozzle, where heating coils maintain the desired temperature. The glass flows from the crucible into a custom nozzle, where separate heating coils keep it hot enough to flow and without sticking to the inside. Finally, objects are built inside a third heating chamber, which is kept just above the temperature at which the glass turns solid. This allows the printed objects to be cooled in a gradual, controlled way so that they don't break.
Finding a nozzle suitable for printing glass was a complicated task, according to Peter Houk, head of MIT's Glass Lab. It needed be made of a material that can both handle high temperatures and resist the glass sticking to it. "At these elevated temperatures almost everything wants to stick to glass," said Houk. Platinum nozzles are used in industry for some glass manufacturing processes, but are very expensive. Instead the group settled on a custom-made nozzle made o...
expand