Dynamic glass, which tints to allow sunlight and heat to be controlled, will soon become an integral part of creating ideal living and working environments.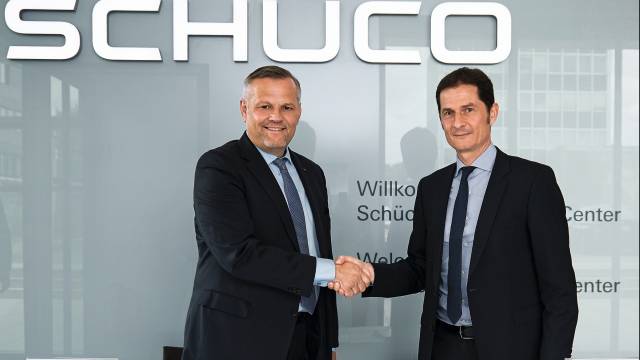 Saint-Gobain and Schüco join forces to produce 'Dynamic glass': technology of the future
This is the view of Guillaume Le Gavrian, CEO of Vetrotech Saint-Gobain International AG and Director of Sales at SageGlass® in Flamatt, Switzerland, and Andreas Engelhardt, CEO and Managing Partner of Schüco International KG in Bielefeld, Germany. They signed a partnership contract in Bielefeld with the intention of establishing this innovative technology in Germany.
With the partnership between Saint-Gobain and Schüco, more reference projects in Germany will be supplied with SageGlass® installed in Schüco windows and façades. SageGlass® is an electronically tintable and therefore dynamic glass for windows, doors, toplight systems and façades, which allows sunlight to be controlled without Venetian blinds or roller shutters. Currently, this special glass can be combined with selected window constructions from the Schüco AWS series with 75, 90 and 120 mm basic depths and Schüco door constructions with 75 and 90 mm basic depths. The FW 60+ façade system is also a perfect partner for this glass. The first joint project has already been confirmed – as part of the building work to extend the Schüco Technology Center in Bielefeld, the façade will be fitted with this innovative technology.
SageGlass® is available as double or triple glazing. The heart of the glass – its electrochromic coating – is protected by the glass composition on the inside of the pane and consists of five ceramic layers. The ceramic material is particularly robust and absorbs heat and light f...
expand