Sparklike Oy Has met and interviewed Interpane's Sabine Dankesreiter (QA/QC Technician) and Luis Hidalgo (QA/QC Manager) for insulating glass production. Sabine was the lucky winner of the Sparklike Handheld device at glasstec 2016.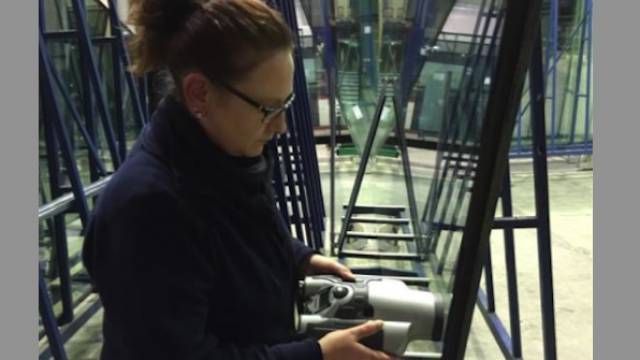 Sparklike Handheld winners ACG-Interpane assured of non-invasive quality control for double-glazed IGUs
Sparklike Handheld is optimal for non-invasive analysis of standard double glazed IGUs. Furthermore, the device is portable and battery operated, thus practical and quick to use.
AGC-Interpane is one of the major European glass processors, producing over 250.000 square meters of insulating glass units per year, in the Plattling facility. AGC-Interpane takes great pride in being able to produce superior quality glass. In order to guarantee the non-stop quality control of their products, the company purchased their first Sparklike Handheld device in 2016. Before it, they ensured the quality of their glasses using test laboratories and invasive gas concentration measurements. This caused them some challenges, such as the lack of cumulative data and not being able to test the quality without invasive techniques, which on the other hand, require time extensive operations during the testing of finished insulating glass secondary seals. Finally, this manifested as some environmental and cost-based challenges.
When Sabine was asked to name her favorite Sparklike Handheld qualities, Sabine said "Sparklike Handheld is very easy to use, small but highly efficient gas concentration analyzer. I can simply place the device against the unit, press the button and receive an instant result with high accuracy. The data logging ability comes in handy when wanting to receive accumulative measurement results."
The extra benefits that AGC-Interpane is looking forward to receiving from the non...
expand