NSG Group is known for its range of products with excellent fire resistance characteristics. Pilkington Pyrostop® is classified in the EI class of fire resistance, integrity and insulation performance.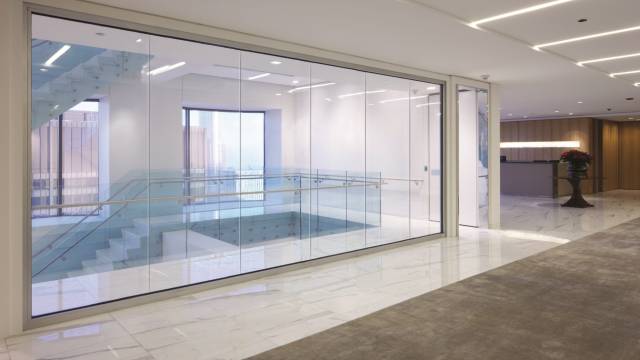 Pilkington Pyrostop releases new fire protection products for indoor applications
Recent tests have certified the appropriate quality of the glasses, more than thirty years after their installation.
The company has recently released two new additions to the range, Pilkington Pyrostop® Line and Pilkington Pyrostop® Line Triple, which can be used in flush glazing without vertical framing sections between the glass units.
This is the monolithic version for butt-jointed vertical glazing for internal applications with integrity and insulation fire resistance performance. The glasses are installed in a peripheral frame fixed in the profile.
The Pilkington Pyrostop® units are glazed one next to the other, with the butt-joints filled with ceramic tape and being sealed with a special silicone, creating a continuous glass partition, without vertical frames between the glass units. The slim vertical butt-joint, with a nominal thickness of only 5mm, is a characteristic of Pilkington Pyrostop® Line.
The Pilkington Pyrostop® Line Triple has been designed for internal partitions with integrity and thermal insulation performance, without the need for further vertical frames. It offers a flush glazing solution aesthetically pleasant and sustainable.
Pilkington Pyrostop® Line Triple is composed of a pane of Pilkington Pyrostop® inserted between two toughened glass panes, combined into an Insulating Glass Unit with a nominal thickness bigger than 39mm.
The flush glazing is installed in the opening of a wall by means of a circumferential framing profile using ceramic tape a...
expand