Instead of the usual oversize glass laminates, a racing car chassis has been hardened in sedak's pressure chamber, part of the company's sponsorship of the up-and-coming racing team "Starkstrom Augsburg".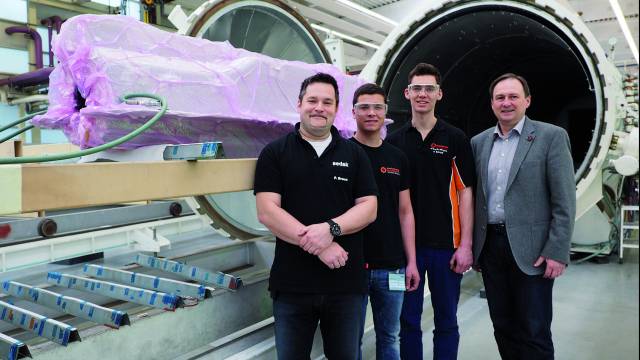 sedak sponsors racing team
2016 will be the fifth time the crew takes part in the "Formula Student Germany" competition. This year's racing car has a 2.4m long, single-seated cockpit with a sandwich structure consisting of carbon/aluminum honeycombs/carbon. For the first time, the chassis hardened in the 17m long autoclave at sedak, the glass manufacturer in Gersthofen, Germany. The hardening process shortened the complex and time-consuming fabrication and reduced the drying time considerably. Additionally, the amount of needed adhesive could be decreased, saving weight and thus time on the race track.
sedak did not only provide the technology but also supported the team with its know-how: "It is our aim to constantly optimize the technology of the racing car. We could also learn a lot from the employees' lamination capabilities at sedak," says Team Manager Alexander Schmidt. sedak's CEO Bernhard Veh adds: "We are internationally active but regionally rooted. Therefore we are glad to support young engineers in Bavaria."