New services that add value for exhibitors and seminars for trade professionals make the 20th edition of the glass industry trade show even more inviting.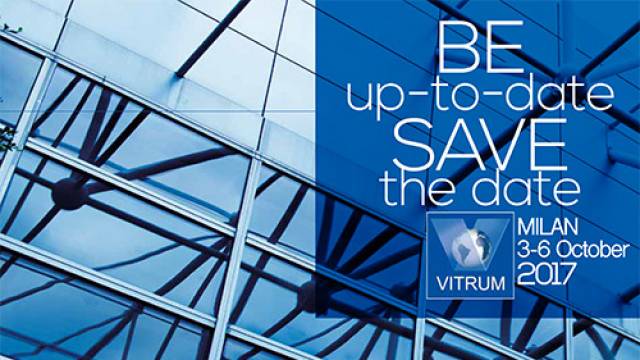 Vitrum announces innovations for 2017
Expectations are on the rise for Vitrum 2017, the international exhibition that will open its doors on October 3rd, attracting the world of glass processing to Fiera Milano Rho.
This year the show will focus specifically on the close connection between all the industry's players – foreign and Italian businesses, domestic and international glass industry associations, institutional stakeholders, research centers and trade press from around the world. Vitrum stakes its claim as the "House of Glass", the ideal setting for machinery manufacturers and operators, researchers, technicians, industry professionals and institutional stakeholders to meet and share ideas that drive product innovation and optimization, and stimulate growth of the industry.
For the Italian market, 2017 is a year sure to spur investments in machinery, thanks to the government incentives in support of enterprise: the New Sabatini, SuperAmmortamento, IperAmmortamento, and Tax Credits for Research and Development. Through the first half of 2018, Italian businesses can take advantage (as long as contracts are finalized by year-end 2017) of crucial tax savings when purchasing new machinery, making Vitrum the perfect 'runway' for showing off their glass processing products to Italian customers.
And, to help industry professionals gain a deeper understanding and the best ways to take advantage of these incentives, a technical seminar will be held on precisely that topic.
In addition to this seminar, the...
expand