The sun eventually shone over De Vere's Staverton Park Golf Club, just in time for play at Edgetech UK's annual Dealership Golf Day on 11 August. The day of friendly competition began with bacon sandwiches and coffee at the clubhouse followed by a welcome from Managing Director at Edgetech UK, Chris Alderson.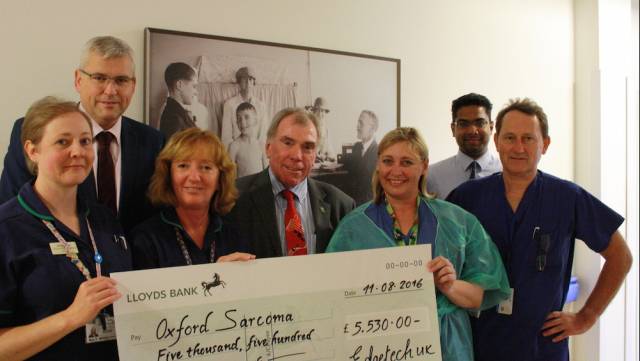 Sixth Edgetech Golf Day raises over £5k for Oxford Sarcoma
The 16 teams then tackled the 18-hole course before regrouping for dinner in the evening where trophies were presented to the winners of the golf competition and a charity auction and raffle was held in aid of the Oxford Sarcoma Service at the Nuffield Orthopaedic Centre.
The individual winner was Mark Bowskill of Masterglass GB, picking up a stunning trophy, whilst second place was taken by Kevin Averiss from Hourglass. James Keeling-Heane from Senior Glass Systems came third.
First place in the team competition was Team nine - Nick Gibbons, Customade; Andy Archer, JCL Glass; Glyn Moorhouse, Oakland Glass; and David Stockton-Chalk from Promac. Paul Young, Ryan Morris and Gareth Laing from Cleartherm came second and Team two with Chris Champion, Glass News; Chris Thompson, Glazerite; Mark Harrison and James Keeling-Heane from Senior Glass.
The Charity Challenge cup was taken by Bill Stopford of Nova Group; Nearest Pin winner was Keith Nethercott of K Seal Glass and Mark Sutherland from Nationwide Windows won the Longest Drive.
Each year Edgetech chooses a charity to support at the Golf Day and this year's was very close to our hearts. The Oxford Sarcoma Service at the Nuffield Orthopaedic Centre has been helping Ian Fielder, Edgetech Sales and Marketing Director Alan Fielder's son. During the evening guests were given a short presentation on the amazing work the Oxford Sarcoma Service does and how they have helped Ian.
The money raised was presented to the Oxford Sarcoma Ser...
expand