After a weak period over the past two years the glass sector is now looking very positively into the future proving its innovative power at glasstec with a host of highlights.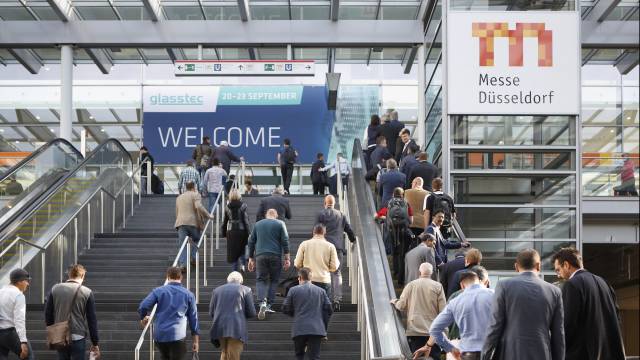 Glasstec 2016: Good mood and solid investment climate
1,235 exhibitors from 52 countries welcomed more than 40,200 visitors from over 100 countries over the four days of the trade fair.
glasstec 2016 has again provided impressive proof of its standing as the leading global trade fair for the glass sector this year. Industry experts from the areas of mechanical engineering, glass production, processing and finishing, skilled crafts, architecture/construction as well as window/façade and solar systems are very satisfied with their participation: exhibitors unanimously report concluding good business deals, promising contacts and an upbeat mood in the global glass sector, a fact expected to generate profitable follow-up business.
"Without doubt glasstec is and will remain the most important trade fair for glass machinery and plant building. This has been confirmed once again this year by the high percentage and quality of international visitors. This position now has to be built upon. A challenge we have to meet together with our partners from the glass industry, the glazier trades and Messe Düsseldorf," says Dr. Bernd-Holger Zippe, Chairman of the Board of VDMA's Glass Technology Forum and Chairman of the glasstec Advisory Board.
In terms of visitors the quality of this trade fair is again underscored by the high percentage of top-management executives. More than half the visitors came from this decision-making level of their companies. Furthermore, over 40% of visitors attended glasstec 2016 with concrete intentions to inves...
expand