This year's glasstec will have on show a series of new developments and technologies ranging from data systems to machinery, all with improvement in processing in mind.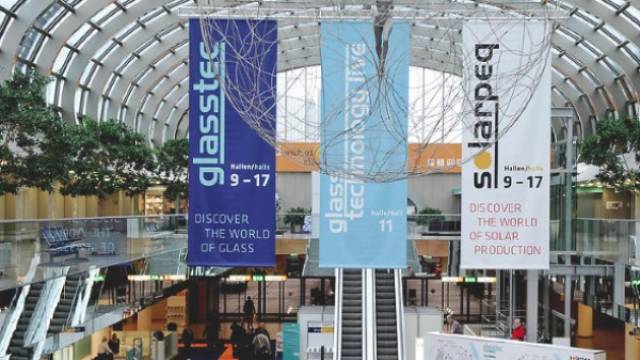 Around 1,200 companies will be exhibiting at glasstec 2016
glasstec, to be held from 20 to 23 September 2016 in Düsseldorf, once again sees itself as a platform for glass technology. Around 1,200 companies will be exhibiting at the trade fair, presenting new products and systems to the international glass community.
Today, remote maintenance is a standard feature, particularly with large machines and systems. Manufacturers can monitor their situation permanently using various parameters, and can intervene if necessary. The problem will then either be solved on site by the system operator or the manufacturer will send his service technician. Nevertheless, any form of remote maintenance has its limitations. In the words of Markus Gruber, responsible among other things for the 'New Business' area at Grenzebach, "We can only recognise as much as this technology allows."
It is precisely here that the new development takes effect. At glasstec, Grenzebach will be presenting a system that makes it possible to see and hear precisely what the technician on site can also see and hear. This is achieved through spectacles, fitted with a mini-camera and microphones among other things, that are worn by the technician on site. The corresponding picture sequences appear on the manufacturers' monitors. Direct communication is also ensured. But that is not all. Building or construction drawings, required for repairs, can be superimposed in the field of vision of the spectacle wearer, and codes such as DataMatrix imported. "We use a serial product," ...
expand