Solar-Active-Houses heat themselves using heat collectors and water tanks. Until now there has been no objective assessment of how efficiently they do so. Fraunhofer researchers put some of these solar houses to the test, identified where there was room for improvement and laid the scientific groundwork for this housing concept.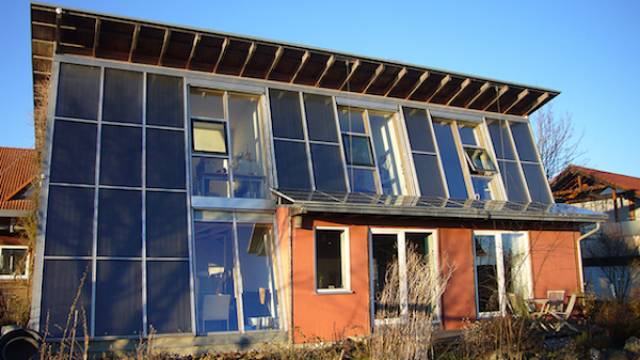 Fraunhofer researchers work on optimizing solar housing
There are around 1700 solar houses throughout Germany, Switzerland and Austria, which are heated primarily using solar energy. Solar thermal collectors on the roof are used to heat water, which is stored in a large tank and used later for heating the house and providing hot water. Since these houses have excellent insulation, this covers around 60 percent of their heating demands.
Solar-Active-Houses are ideal for achieving the European Union's Energy Performance of Buildings Directive, which stipulates that all buildings built from 2021 onwards have to be nearly zero-energy buildings – in other words, buildings that consume minimum amounts of fuel. Solar houses are a viable alternative to passive houses, which rely chiefly on very strong insulation and a ventilation system that recovers and redistributes heat. Solar-Active-Houses have, however, been struggling to overcome one flaw – they hadn't undergone any systematic scientific testing or objective assessments of their efficiency.
It is this scientific groundwork that has now been completed as part of the "Heizsolar" project, conducted by researchers from the Fraunhofer Institute for Solar Energy Systems ISE in Freiburg, Germany, together with colleagues at Solar- und Wärmetechnik Stuttgart, the Technische Universität Ilmenau and the Sonnenhaus-Institut. "For Heizsolar, we monitored nine Solar-Active-Houses over multiple heating periods," says Gerhard Stryi-Hipp, group manager at Fraunhofer ISE. "This gave us a fou...
expand