An Irish craft brewery has chosen eye-catching beer bottles from Beatson Clark as the UK glass manufacturer continues to make inroads into overseas markets.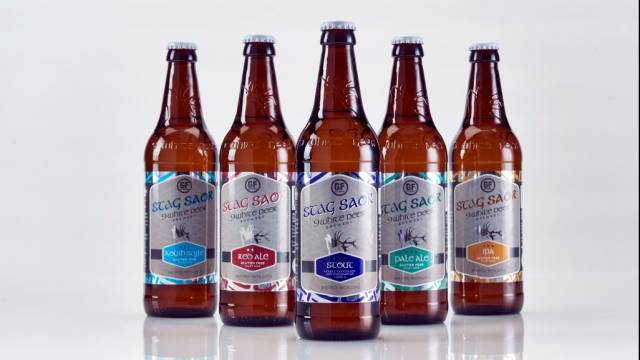 Embossing helps Beatson Clark to grow exports
9 White Deer started brewing in County Cork in 2013. Its owners Gordon Lucey and Don O'Leary set up the brewery to try to introduce a greater range of quality beers to the Irish market.
The brewery now takes both a 500ml standard amber beer bottle from Beatson Clark for its own contract bottling line and an embossed standard beer bottle for its own range of beers.
The contract was arranged through Dublin-based packaging specialists The Packaging Centre, who could see how Beatson Clark's embossing options were a perfect fit for 9 White Deer.
9 White deer brews six different beers, from pale ales to a triple-hopped black IPA, and is about to launch a completely new range of gluten free beers – partly because Don himself has a gluten intolerance.
"When we started out we were using another bottle manufacturer but we missed that close attention to clients' needs that we've since found with Beatson Clark," said Gordon.
"They're very willing to talk about everything and they're very helpful if you have any issues. Doing business with Beatson Clark is a fast and easy process, which is why we're still with them."
Gordon said the brewery was able to consider an embossed bottle option as they already process enough bottles through their contract bottling business to make it cost-effective.
"The first thing breweries do as they grow is get custom printed caps, and then they want to go to the next level and bring out their own embossed bottle," Gordon explained.
"We ga...
expand