Guardian Glass products enable complex curved façade on Hamburg's new stunning concert hall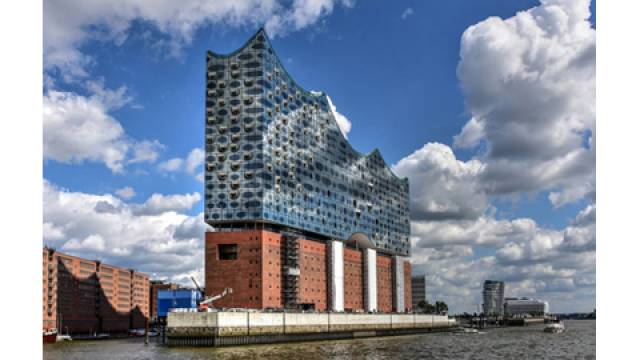 Radical Elbphilharmonie design realized using Guardian Glass products
Located on the Elbe River, on the western tip of the HafenCity in Hamburg, Germany, the Elbphilharmonie is one of the largest and most acoustically advanced concert halls in the world and an outstanding example of modern architecture.
The Elbphilharmonie boasts stunning architecture in the mixed-use facility. Designed by Herzog & de Meuron, the building is not just a site for music; it is a fully-fledged residential and cultural complex. The 108-metre-high building, which officially opened in January 2017, accommodates a philharmonic hall, a chamber music hall, restaurants, bars, a terrace with panoramic views of Hamburg and the harbour, luxury apartments, a hotel, fitness centre, conference rooms and parking facilities.
The design of the new glass building resembles a hoisted sail or water wave. Extruded from the shape of the original Kaispeicher warehouse that supports it, the new glass building is identical in ground plan with the brick block of the older building, above which it rises. However, at the top and bottom, the new structure takes a very different design from the quiet, plain shape of the warehouse below.
The new building's stunning 21,800 square metre glass façade consists in part (approx. 5,000 square metres) of curved glass that transforms the structure into an enormous quartz crystal, whose appearance continually changes as it catches the reflections of the sky, the water and the city lights.
Josef Gartner GmbH was responsible for developing the glass fa...
expand