Executives of Ardagh Group recently celebrated a decision by New Glarus Brewing to buy all of its bottles from the Ardagh glass manufacturing plant in Burlington.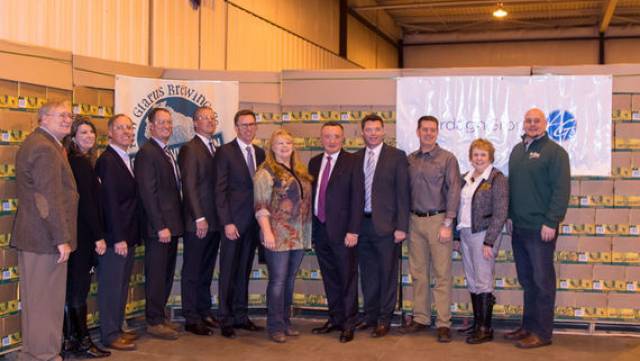 New Glarus Brewing choses Ardagh bottles in $6m deal
Ardagh's plant on the edge of the city, an employer of about 400 people, is now in full production of the New Glarus bottles, Plant Manager Dean Harris said during a ceremony there.
New Glarus Brewing Co. founder and President Deb Carey said her company's decision to buy its bottles from Ardagh instead of a manufacturing plant in Virginia means $6 million of business kept in Wisconsin. According to New Glarus Brewing, glass is one of its largest annual expenses.
Alex Robertson, chief commercial officer of Ardagh North American Glass Division, also said the relationship between the two companies works well for other reasons.
"The key for us, I think, has been the sustainability side of things," he said. "From a freight point of view, a sustainability perspective, a local-supply perspective, everything comes together really, really well."
The Burlington Ardagh plant — which company officials said is Wisconsin's only glass plant — manufactures continuously 365 days a year and 24 hours a day to produce close to 2 million bottles a day.
Having New Glarus Brewing as a customer will add about 42 million bottles per year to the production total. John Riordan, president and CEO of Ardagh Group's North American Glass division, said the added business will not likely increase employment at the 50-year-old plant but added: "What this business will do is: It will secure the plant into the future."
As part of its contract with Ardagh — which has a long history of serving ...
expand