The visually stunning cable-stayed glass facade surrounding the recently-opened Enzo Ferrari Museum is another outstanding demonstration of the capabilities of SentryGlas ionoplast interlayer.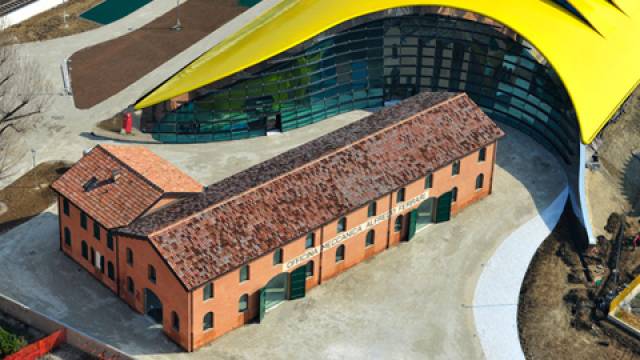 Enzo Ferrari Museum in Modena, Italy
Today's demand for special geometries and highly transparent building envelopes calls for innovative engineering solutions. Designed by Jan Kaplicky and Andrea Morgante of Future Systems in London, England, the 78 meter (256 feet) long, 45 meter (148 feet) wide Enzo Ferrari Museum in Modena, Italy has a geometrical shape and high transparency that are clearly inspired by sports car designs. The engineering philosophy on the project was to maintain a relatively simple geometry for the glass façade panels, which had to be assembled to adapt to the many different geometrical shapes by means of complex customised detailing. Italian engineering and architectural consultancy company Politecnica handled the façade design work.
The 11 meter (36 feet) high cable-stayed glass façade is geometrically defined by two intersecting conical surfaces, inclined towards the interior of the building by 12.5 degrees. The smooth, attractive curved shape of the façade was achieved by using straight cables and standard planar glass units. These had to be cut at specific angles in order to match the conical geometry.
The façade is supported by a 3D-curved circular hollow steel girder, which runs the entire length (62 meters, or 36 feet) of the building. This one meter diameter girder acts as a topside support for the cables of the façade. These cables not only support the glass units, but also transfer all the loads to the 3D-curved girder. The girder itself is supported by two hinged Y-shaped st...
expand