RavenBrick celebrates the opening of an automated line for the company's newest Low-E product, RavenWindow.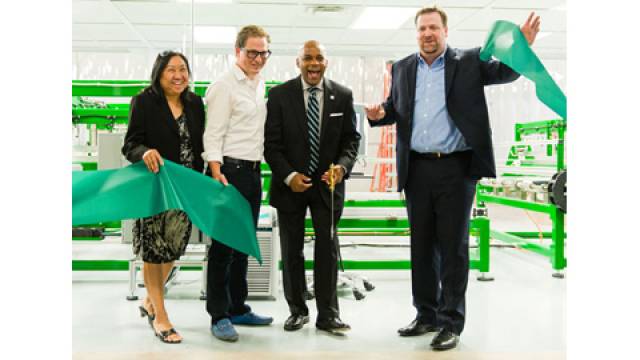 Ribbon cutting ceremony held at RavenBrick's world headquarters in Denver, Colorado.
Denver Mayor Michael B. Hancock joined Alex Burney, CEO of RavenBrick, during a ribbon cutting ceremony held at RavenBrick's world headquarters in Denver, Colorado. In addition, key investors, members of Denver's Office of Economic Development, Chris Sheppard, Director of Colorado Cleantech Industry Association, and The Honorable Marcy Grossman, Canadian Consul General in Denver were at the event.
The ceremony marked the unveiling of the new automated line for RavenWindow and the mass production of this new dynamic window technology. The launch of the automated line signals an evolution in energy efficient windows, the first of its kind since the introduction of Low-E windows in the 90s.
RavenWindow is a thermochromic filter that manages solar heat gain by transitioning to a tinted state during hot conditions―an incredible, self-regulating solution to energy efficiency considering that solar heat gain through windows can account for up to 34 percent of a building or home's energy use. In addition to managing solar heat during summer months, RavenWindow's adaptive technology allows solar heat through windows during cold conditions.
Additionally, this solar-intuitive window eliminates glare and blocks harmful UV rays, protecting interiors and belongings from fade and protecting inhabitants from the damaging effects of the sun.
"Denver's cleantech and manufacturing sectors are growing stronger thanks to the innovations of forward-moving companies like RavenBrick," Mayor Ha...
expand