When Lambert Architecture + Construction Services in Columbia, South Carolina set out to renovate a 1930s-era cigar and candy store and adjacent warehouse, architect Josh Boltinhouse, AIA, LEED AP, knew that exterior glass would play a major role in achieving project goals to create a modern office space – bright, open, comfortable and energy efficient – all while respecting the character of the existing architecture.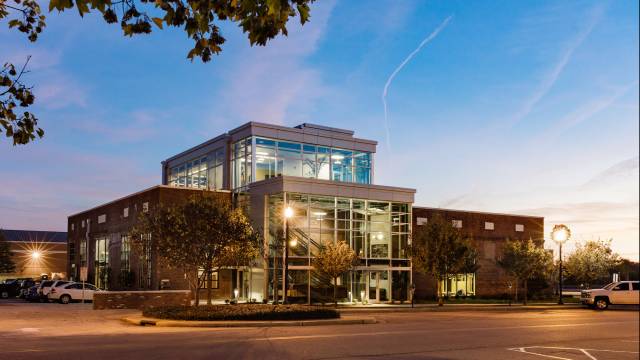 Guardian Glass brings out the best in adaptive reuse
The team was so pleased with the final project that when the firm outgrew its space, it decided to move to 522 Lady Street.
"The people who work here love this space," Boltinhouse says of the results. "It's beautiful and comfortable in all seasons, and it represents the work of Lambert Architecture + Construction Services really well." In fact, the architects have deemed themselves "renovation experts," having helped owners breathe new life into abandoned and forgotten buildings.
"We wanted glass that would showcase the building's historic features while creating a modern office space that is comfortable and full of natural light," he explains. "Guardian SunGuard® SNX 51/23 glass delivered, with exceptional energy performance and clarity – and without added tint or reflectivity that might distract from our design.
"I was considering a known glass product with high efficiency and light transmission," he remembers, "when my Guardian representative recommended SNX 51/23, a new SunGuard glass that matches these performance points – with the added benefit of very low reflectance. Rather than creating a monolithic look, we wanted to see right into the space and show off its historical character."
Boltinhouse called the difference in reflectance "eye-opening," and specified SunGuard SNX 51/23 glass for an iconic stair tower visible from the street, all existing window locations, and new expanses of glass that overlook the city and nearby Congaree Riv...
expand