Continental Corporation, one of the world's top five automotive suppliers, will showcase its "Intelligent Glass Control" system on a demonstration vehicle at a special event at the Consumer Electronics Show (CES) in Las Vegas from January 6-9, 2016.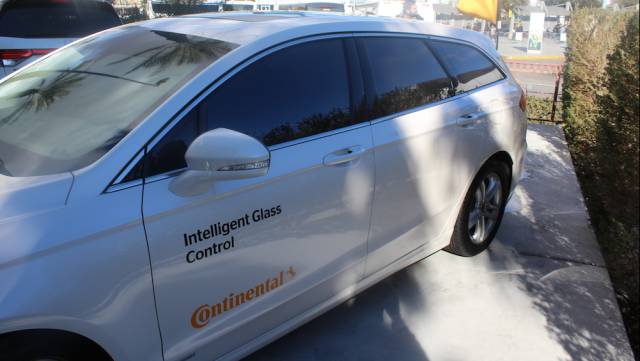 Continental Corporation displays intelligent glass control system using SPD-smartglass technology at CES 2016
The Ford Mondeo station wagon uses Research Frontiers' patented SPD-SmartGlass technology to enable the glass in all eleven side and rear windows and in the top sunvisor portion of the windshield to change its transparency and darken instantly through electric control signals. This increases passenger comfort, energy efficiency, safety and security.
Joseph M. Harary, President and CEO of Research Frontiers, said "Here at CES we are seeing a heightened presence of smart homes, and now with Continental's Intelligent Glass Control system, truly smart vehicles using SPD-SmartGlass."
The company which invented SPD-SmartGlass technology has licensed it throughout the world for use in the automotive, aircraft, architectural, marine and museum industries.
Continental says that its Intelligent Glass Control system increases passenger comfort and lowers CO2 emissions by keeping the interior of the vehicle cooler. As a result, smaller, more efficient and lighter air conditioning units could be used. Calculations showed a reduction in CO2 emissions of four grams per kilometer. Continental also estimates that their Intelligent Glass Control system can increase the driving range of electric vehicles by 5.5%. When compared to conventional automotive glass, Mercedes-Benz reported that the use of SPD-SmartGlass significantly reduces the temperature inside the vehicle by up to 18ºF/10ºC.
The company also highlights safety benefits of the Intelligent Glass Control system in typical driving s...
expand