Using forgotten objects that others might easily throw away, artist Amber Cowan creates intricate sculptures.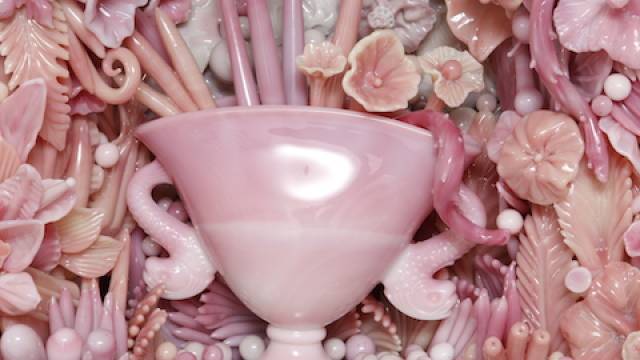 Glass artist recycles for ornate sculptures
She concentrates on glass as a medium, gathering materials from American factories that are no longer active. In doing so, she explores the memories that these objects might still hold, both on a collective and personal level.
"I became first interested in glass when I was about 7 or 8 years old when I found a set of frosted pink elephant swizzle sticks in my parents basement cabinet," Cowan tells The Creators Project. "I knew I wanted to make glass and figure out how to work with it from a very young age. I had always been creative and worked with ceramics for a long time. But, once I began working with glass I never went back to other materials. This was almost 15 years ago."
This sense of nostalgia is integral to Cowans' practice. As she explains in her artist's statement, "I rework objects currently relegated to the aesthetic dustbin of history. I reincarnate them into ornate abstractions that pay homage to the glass itself but with a reminiscent sentimentality for times past."
Cowan recalls receiving an email from a viewer who saw her work. He remembered that his grandparents served him ice cream sundaes in the dishes she included in her piece.
"I do think a lot about the memories associated with the objects that I use," she says. "They carry a lot of sentimentality for people. Milk glass specifically was a relatively affordable item for people to collect. My father used to buy milk glass items for my grandmother and I think that this was common. I also think about...
expand