The Corning Museum of Glass (CMoG) will present Revealing the Invisible: The History of Glass and the Microscope, tracing the invention and evolution of the microscope from the 17th century through the early 20th century, revealing scientists' and artists' explorations of the microscopic world.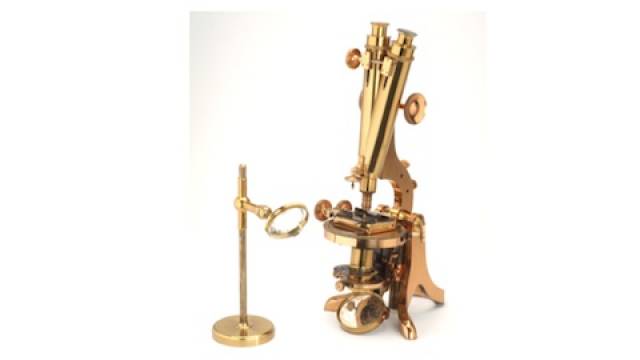 Corning Museum brings history of science and glassmaking to life
On view in the Museum's Juliette K. and Leonard S. Rakow Research Library until March 18, 2017, the exhibition will feature rare books and materials from the Rakow Library, interactive elements designed especially for the show, and historically significant microscopes—including a rare original Antoni van Leeuwenhoek microscope, lent by the Museum Boerhaave in the Netherlands, that has never before been exhibited in the United States.
Revealing the Invisible will explore how the evolution of the microscope motivated the development of modern glass science, and will look at the impact of microscopy on science, medicine, and popular culture. The exhibition will enable visitors to experience the process of scientific discovery from the time when the microscopic world was unimagined, to important scientific breakthroughs that expanded the known world, to examples of modern inventions that have put microscope technology within everyone's reach.
"CMoG is the world's premier institution for the study of glass, so we're excited to present this exhibition that will illuminate a fascinating and surprising story about the history of science and of glassmaking," said Dr. Marvin Bolt, CMoG's curator of science and technology. "Revealing the Invisible will lead visitors through nearly 400 years of discovery that helped transform the way we see the world."
15 historic microscopes will be on display, including a rare original example by Antoni van Leeuwenhoek, the 17th-centur...
expand