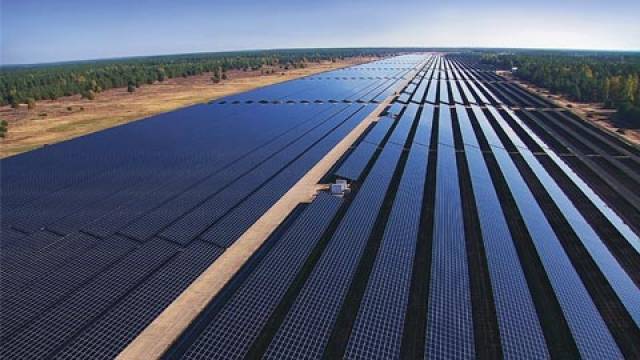 Thin-layer in rows: solar project developer Belectric has built Europe's biggest photovoltaics power plant in Eastern Europe using cadmium-telluride modules by First Solar.
The solar industry has changed. As little as five years ago the manufacturers of solar modules were still announcing huge Gigawatt factories while research institutes were outdoing each other with ever new efficiency records. Thanks to abundant subsidies in many European states the total installed PV in Europe quadrupled to 70 GWh between 2008 and 2011. This huge demand made the sector brim with self-confidence.
Today, scarce evidence of this boom can be seen anymore. Many countries with feed-in tariffs for solar power have drastically curtailed subsidy tariffs due to the rapidly rising green energy subsidy costs involved. As a result, the build-up in Europe dropped by almost 40 per cent last year. Subse-quently, nearly half the European cell and module manufacturers disappeared from the market and production equipment suppliers started posting losses while solar glass producers and processors lost an important source of income.

Better days to come
However, those keeping their heads above water can now finally hope for better days. This holds particularly true for companies that are already multi-national players. "While Germany runs the risk of a further shrinking market, other countries are increasingly relying on the power of sunlight to make their energy supply safer and more eco-friendly," says Carsten Körnig, General Manager of the German Solar Industry Association (Bundesverband Solarwirtschaft).
And statistics support Körnig's view. In Japan and China demand for m...
expand


Download full article in PDF