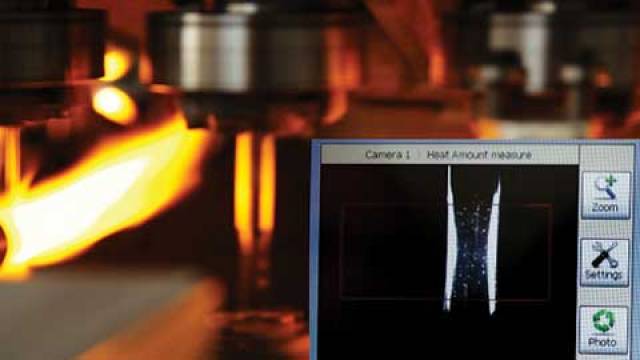 OCMI: Camera control systems improved efficiency in Ocmi machines
In recent months the camera control systems developed by OCMI for all tube forming machines have became a mandatory item requested by manufacturers in order to check in real time the quality of glass forming process in hot processing zone.
The main purpose of these systems used in hot-forming area is to support the operators working on forming machines in reducing glass waste, keeping the sizes of glass containers inside tighter tolerances and avoiding troubles during after-forming operations.
OPTISTEM/2 for ampoules inspection is a special case among the camera control systems developed by OCMI Technical Departments. Equipped with two cameras, the system offers not only a simple dimensional control with automatic rejection, but also real time correction of the oxygen level in two burners before the stretching and forming station. This allows working in the stretching and neck forming area under the same temperature conditions in all glass tubes.
This vision system has been developed with the purpose of keeping the stem diameters under control and inside a tighter tolerance. The second purpose is to reduce the glass waste in the forming machine and in the after-forming line and increase the efficiency.
On the user-friendly control panel, the operator can check the trend of all diameters of the glass ampoule inside tolerances limitations.
The software allows operators to store the data about each production batch and to recall parameters of ISO type ampoules (parameters of...
expand


Download full article in PDF