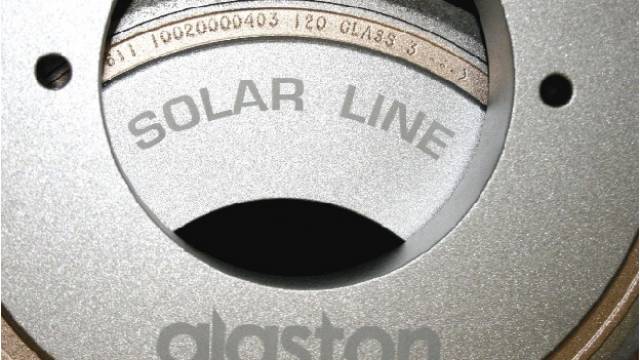 Solar Line Tools is Glaston's specific line created for solar glass processing
Glaston is constantly focussed on developing and designing more and more performing machines, tools and solutions, enabling its customers to have leadership in their fields.
In the present economical situation, where some market areas are still quite slow with regards to the glass industry, the solar panel business is among the more active ones and with a higher growth forecast. In response to this developing trend, Glaston Bavelloni, with more than 100 lines already delivered to PV glass manufacturers in Europe, Asia, South Pacific and the United States, continues to focus on increased capacity, improved technical parameters and cost reductions.

Reliability, quality and productivity with V EVO
Reliability, quality and productivity are the key values of Glaston Bavelloni V EVO double edgers and Solar Line Tools.
V EVO is the Bavelloni brand range of double edging machines with peripheral wheels for the processing of pencil edges, conceived for small and medium glass thicknesses for the solar industry. These machines are available in three models, with two, three and four peripheral wheels on each side (only diamond or diamond and polishing) and in four different versions, according to the maximum size that can be processed, for 1,200-, 1,600-, 2,000- and 2,600-millimetre glass. Their main characteristics include high production rates, for constant capacity. In fact, V EVO can grant perfect edging, good corner cutting quality and low scraps. Ergonomics and ease of use have been...
expand