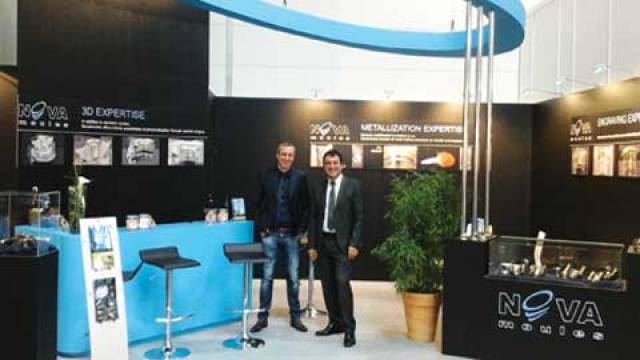 Novamoules at glasstec 2014. From right: Loreto Ricci, President, and Luca Lavia, Metallizzation Manager)
The origins of the company
Set up in an area focussed mainly on glassmaking, Novamoules was founded in 1980 to respond to the requirements of one of the oldest French glass factories (known as VMC at that time). During the first years, the company became specialised in the manufacture of moulds and parts. In 2004, after rapid growth, Loreto Ricci, one of the founders, together with his daughters, Delphine and Stéphanie, decided to take over the company. Together, they built a fully oriented performance strategy, and chose to serve a wider market with their own experience, starting to sell across Europe. The company currently exports 35 per cent of its output on food and beverage, pharmaceutical and cosmetic markets. Moreover, new orders have been recently delivered in Middle-East countries.
This is the story of a passionate family that we want to tell here, but also proof that success is still possible in this business.

A highly technical profession
Novamoules' development has been made possible thanks to the technical know-how and high skills of the people who work in the company.
Actually, Novamoules, who was leader in introducing PTA technology in mould making in France, is proud of its longstanding experience in metallization. Today, the company is able to metallize a large variety of support alloys (cast iron, bronze, steel) with nickel, tungsten carbide, cobalt-based powders, on full profile or edges, whether they are small or large surfaces to coat (moulds and bottoms, n...
expand


Download full article in PDF