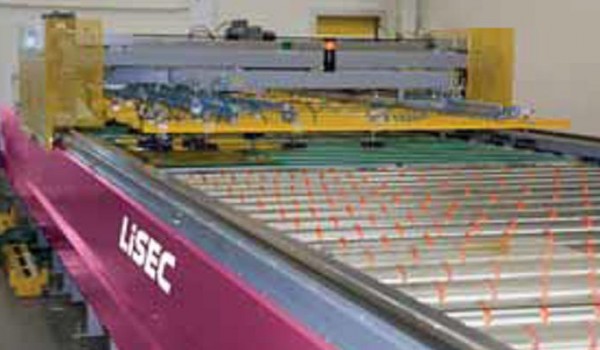 LISEC: revolutionizing laminating technology
At the end of 2010, LiSEC installed its brand-new laminating tunnel at one of its customers' plants in Italy. This machine represents a milestone in the laminating industry because it can process one batch of glass in only 45 to 60 minutes, a very short time compared to the traditional high-pressure autoclave system, which requires at least 5 to 6 hours or more, considering a mixed production. The core idea of this new technology is to split the heating phase from the cooling phase using a tandem chamber system, which shortens the cycle and, moreover, reduces energy consumption to one third compared to an autoclave cycle.

THE LAMINATING TUNNEL
The tunnel is made up of one heating section and one cooling section, which are separated by doors and by an intermediate chamber. The tunnel is pressurized, similarly to autoclave systems, but with lower air pressure. The vacuum process is enabled by a special tray system covered by silicone blankets and equipped with an automatic connection system and control device. Glass sheets with a maximum size up to 2,800 x 5,100 millimetres, weighing 800 kilos and thickness up to 80 millimetres, can be processed. All kinds of interlayers can be used: refrigerated or interleaved PVB, EVA, ionomers, providing very flexible production.
This technology is protected by a patent and was developed after very intensive R&D; a prototype was built and used to prove the efficiency of the process; glass samples were produced using the technology and were t...
expand