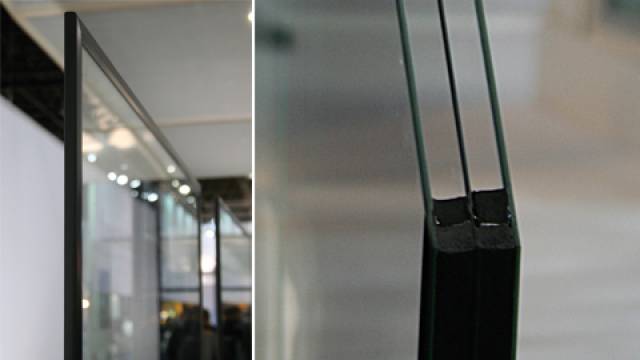 Left: As an individual element, vacuum-insulated glass is less than 1 cm in thickness. Innovative edge seal technologies are to facilitate the use of float glass, single-sheet safety glass and laminated safety glass, as well as the application of nearly a
Improving the energy performance of windows and façades continues to be one of the central challenges in modern architecture. As well as optimising frame sections, a major role is played by the efficiency of the thermal glass that is used for this purpose. Thermal double-glazing has been proving its worth for several decades now. By applying highly efficient functional coatings and using thermally optimised warm edge spacer systems, the relevant Ug value of a glazing unit – so crucial for thermal insulation performance – has been reduced to 1.0 W/m2K with argon-filled glazing. Moreover, a low-emissivity coat is added on the indoor side of a unit, so that the latest products now have values as low as 0.9 W/m2K.

Thermal Triple-Glazing is now State-of-the-Art
Yet thermal double-glazing still cannot achieve the same excellent insulating effect as thermal triple-glazing, where the relevant values are now as low as 0.5 W/m2K. This type of glass has the best level of performance and is currently state-of-the-art in traditional thermal glass applications. Its excellent insulating effect has led to an increased use of triple glazing in buildings, as it can best satisfy today's rising requirements on energy performance. Germany, in particular, has seen substantial growth in this segment. In just four years the market share has increased from about ten to over 60 per cent, and the trend is rising. At the same time there is a tendency towards bigger glazing units. This trend is suppo...
expand


Download full article in PDF