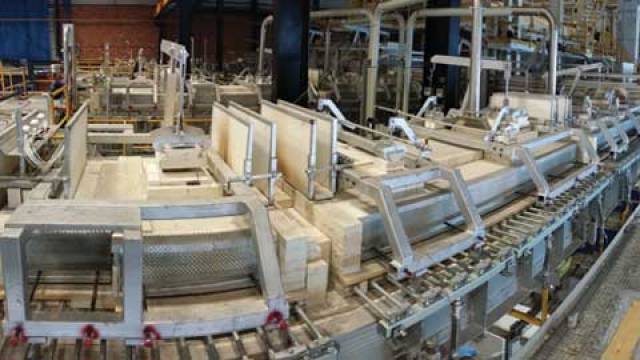 HORN Glass Industries: a trend to high flexible forehearth systems
In the beverage and spirit packaging sector glass bottles strongly compete with plastic packaging such as PET bottles. The biggest advantage of PET bottles is their weight. The worldwide glass industry tries to stay competitive by producing lightweight bottles as an alternative to PET bottles.
The production of such bottles requires a fully understood forming process (NNPB) at very high machine speeds. In order to obtain uniform wall thickness when the container is formed, the viscosity of the liquid gob has to be as homogenous as possible. This target is attained by only minimal temperature variations of the glass gob. At the end of the forehearth, before the glass enters the spout bowl, thermal homogeneity is measured and calculated by various – customer specific – formulas.
The so-called K-Factor is required to be beyond 98 per cent over the entire production profile and different glass colours.
A second trend – caused by 'just in time' production, of course in turn caused by the aim to save storage costs – shows that plants which are going to be rebuilt or green fielded, have enhanced requirements on forehearth performance regarding pull ranges. So the trend shows that nominal minimum and maximum loads spread.
This is accompanied by a wider field in gob temperatures.
The new designed GCS301 forehearth range is the answer of HORN Glass Industries to raised demands regarding forehearth flexibility and performance. Channel widths from 26" up to 54" are available. ...
expand


Download full article in PDF