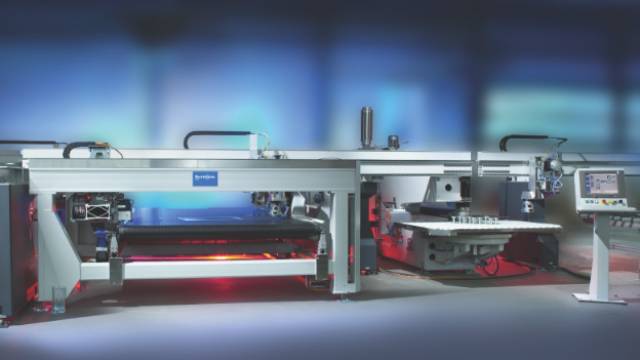 champ'speed 2in1
Moving into the future with high speed solutions from Bystronic glass
Bystronic glass will use its exhibition space to present high speed solutions for glass processing in the architectural and automotive glass sectors, as well as innovative solutions for the solar industry. Moderated live presentations of machines will take place several times a day and will offer visitors deeper insights into the fascinating technologies.

New benchmark in triple I.G. production
The new speed'line for the production of insulating glass will stretch along the entire length of one side of the stand. In addition there will be the speed'sealer, the quick sealing robot that has already been introduced onto the market. This modern production line also includes machinery that allows for the production of triple I.G. units with the fastest possible cycle time: two tps'applicator components that are arranged one after the other for the application of TPS® (Thermo Plastic Spacer) and the speed'assembler, the new press for the quick assembly and gas filling of triple insulating glass units.

Proven, revolutionary technologies
In the laminated glass production sector, customers can obtain information about the eco'lamiline, the new production line, which enables all versions of laminated glass to be produced in an energy-efficient manner – from simple constructions through to complex shaped formats with special films – all on a single system. The eco'convect, the pre-nip system that is proven and co...
expand