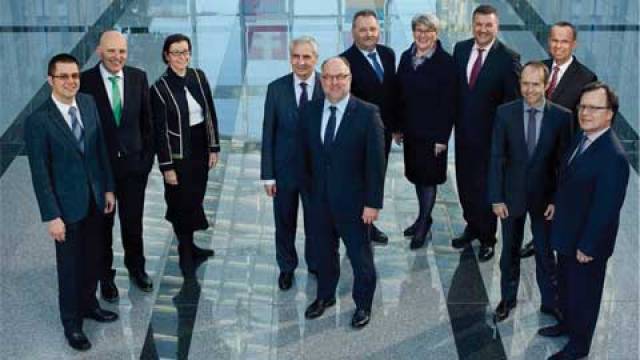 Tihomir Premužak, Johann Reiter, Inge Jost, Andriy Girnyk, Gregor Gábel, Elisabeth Boner, David Zak, Günter Lubitz, Claude R. Cornaz, Christoph Burgermeister, Marcello Montisci
In the 2014 reporting year, Vetropack Group further increased both its sales and its consolidated revenue (adjusted for currency effects). All production capacity was essentially utilised and net liquidity reached an all-time high. Strategic investments in furnaces and production infrastructure have helped to improve efficiency and flexibility and secure the future of plants.
Whilst both sales and consolidated revenue increased by 4.2 per cent over the 2014 financial year, negative exchange effects impacted the real result, leading to a fall of 2.8 per cent in revenue.
Ukrainian JSC Vetropack Gostomel reported a strong operating performance, but its contribution to consolidated revenue was affected by the devaluation of the local currency. The Swiss Vetropack company increased its contribution to revenue to 13.7 per cent, thanks to the strength of the Swiss franc in the declining domestic market.
Vetropack Austria GmbH, with its two glassworks in Pochlarn and Kremsmunster, again provided the largest share of gross revenue (31.4 per cent).
Moravia Glass a.s. in the Czech Republic remained constant and Slovakian Vetropack Nemsova s.r.o. generated 8.3 per cent, attributing this positive result to a strategic shift towards direct customer business, and reducing supplies to co-subsidiaries.
The Croatian company Vetropack Straza d.d. increased its percentage to almost 20 per cent thanks largely to the expansion of its export business.

Positive trends
The current trend towards...
expand


Download full article in PDF