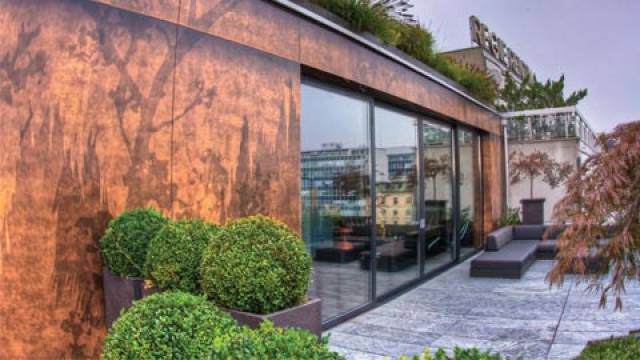 Numericoat® - an innovative synthesis of UV-cured digital print and industrial surface coatings used on the decoration of two facades on a 20m high building, the "Hollywood" mountain in Disneyland Paris, France
Innovation in architectural decor
Visio-Technic Numericoat is an innovative synthesis of digital print and industrial surface coatings, and it delivers an advanced professional solution for the creation of customised, durable, architectural graphics, signs, displays, images, and colours on a variety of today's building construction materials. "Starting with a standard plain substrate – metal, glass, or composite," explains Visio-Technic's Commercial and Marketing Director, Martin Saunier-Plumaz, "Our in-house production team take a digitally-generated image of the customer's choice, and capture it on the substrate within Numericoat's two special layers of spray-applied thermo-hardening primers. The Numericoat base layer provides the anchorage for the flatbed inkjet-printed image, and the top over-lamination coat gives it perfect protection. Not only is it fire- and UV-resistant, it also has anti-graffiti functionality."

Guaranteed durability
"Perhaps most important of all for the construction industry, Numericoat panels come with a ten-year durability guarantee – true confirmation that this is genuinely a highly-durable solution," says Saunier-Plumaz.

Versatile image production
The versatility of the flatbed inkjet's movable printhead makes it practical to print on to very large panels – up to 6.5 metres long and 2 metres wide – using UV-cured acrylic inks to deliver a high-definition four-colour CMYK printed image.

The proven benefits of UV inks
UV i...
expand


Download full article in PDF