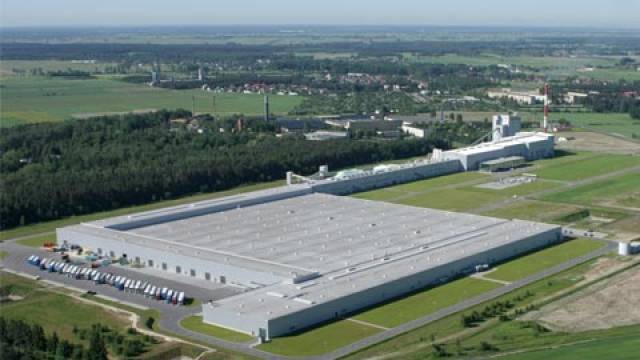 The Euroglas plant in Ujazd, Poland, is one of the most modern for float glass in Europe. A thousand tonnes of float glass roll off the production line every day Copyright: EUROGLAS
Premium-quality float glass as a basis
The two-level Euroglas trade fair stand presented glass as a material of sophisticated design: EUROLAMEX laminated safety glass with a grey filter between the two panes of float glass is used on the stand façade. The light tint creates a modern look and acts as an unobtrusive screen for the meeting rooms behind it without fully concealing them. The stand also features several meeting points for customer dialogue. The new speciality glass coating DURACLEAR, which is an anti-corrosion coating and is therefore suitable for all scenarios in which glass is exposed to moisture was at the centre of the product display. It permanently retains its brilliance, whether used for bathrooms or roofed-over areas.
The basis of this and all the company's other products is premium-quality float glass, which Euroglas produces at four locations. The first of these was inaugurated almost 20 years ago in Hombourg, Alsace, constructed together with a partner company. Today, the association of five independent medium-sized glass processing companies with plants in Hombourg (France), Haldensleben (Germany), Osterweddingen (Germany) and Ujazd (Poland) is one of Europe's leading glass manufacturers. United under the Euroglas name, the plants provide independent glass supplies to the processing plants of the Glas Trösch Group and its partners. The Ujazd plant, which opened in 2009, alone produces around 1,000 tonnes of float glass every day. The EUROFLOAT® and EUROW...
expand


Download full article in PDF