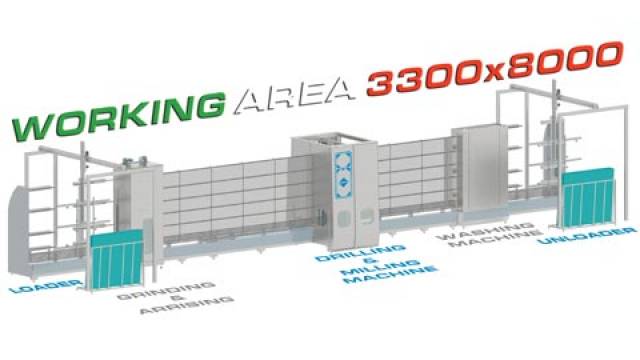 Complete vertical drilling and milling line

OMV Vismara has been active in the flat glass processing machinery sector for about 30 years. The Italian company, based near
Milan, northern Italy, is specialized in machinery for drilling, both single- and double bit, horizontal and vertical. Completing the company's range of products are its drills for furniture glass and that for construction, as well as for photovoltaic glass and glass agricultural and land.
The company is continuously growing and developing and, thanks to its own in-house software design and creation, can respond to the numerous and diverse needs and requests of innovation from its clients and from the market.
The strong point of OMV Vismara's machines is their technological flexibility, thanks to which the company can create customized machinery, as well as their ease of use, both with regards to mechanical and hardware and software.
The company has, in the past four years, doubled its productive area, and has also set up a permanent showroom where clients have the possibility of seeing OMV Vismara's machines up and running in a real-life production area.

Collaboration brings results
Thanks to collaboration with other companies that manufacture complementary machines to drilling and arrissing, OMV
Vismara can offer complete lines of grinding, drilling and arrissing, also with automatic loaders and unloaders, which enable to load the glass, followed by processing (both vertical and/or horizontal), and then unload the finished glass, also using barco...
expand


Download full article in PDF