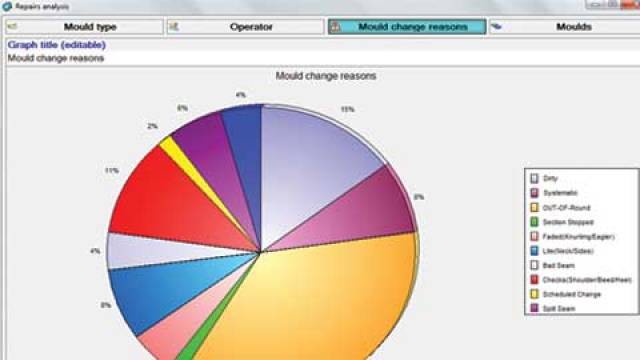 Reasons analysis
The cost of moulds is high. Spending less by using the sets in a more homogenous way makes the same mould sets a great lever to improve glassmakers' profitability.
The mission of Vertech to be the premier production monitoring system in the glass industry, it was mandatory not to only think about improving outputs but also finding saving levers.
Based on everyday issues Vertech has seen in glass plants, here are the solutions brought using the SIL.

Using pieces of paper to track the reasons for mould change?
Ever seen moulds doing multiple rotations?
Everybody has a precious little bit of paper stuck on the mould giving quick information on the reason for mould change. Is this information complete?
The Hot End Operator enters the mould change reason in the SIL to inform the Cold End. Using this information replaces the piece of paper and gives more accurate information without asking additional work to the Hot End Operator: number of gob cuts produced by the mould, mounted duration, number of rotations … With these details, the mould shop operator has full information to do the most efficient work. He can see for example that the mould has been replaced for the fourth time for bad seams and, therefore, change his approach towards the repair, asking his manager for advice. This approach enables the operator to take decisions based on an overall vision. Repairing with more analyses reduces rotations for repetitive reasons, as well as team frustration.

Making sure the hot end do...
expand


Download full article in PDF