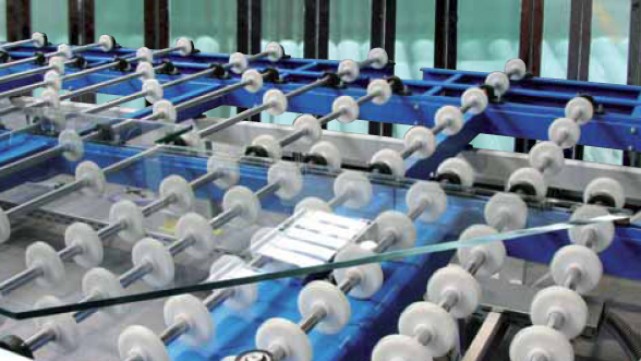 Examples of shape diversity of the eco'lamiline
By purchasing the line for the production of laminated glass, Polish Mochnik Company has opened up a new business arena for itself. Previously, the company primarily supplied domestic and international customers with single pane safety glass as well as complying with customer wishes, by producing ground and drilled glasses. Mochnik is now expanding its product range, whilst, at the same time, aiming at the construction sector. "As we have seen an increased demand for laminated glass over the course of recent years, we made a decision at the beginning of 2010 to invest in a production unit," reports Artur Mochnik who goes on to say: "Bystronic glass, famous for its premium, modern machines quickly came into consideration as a potential supplier." After comprehensive consultatative meetings, the final decision for a laminated glass line was made at the Bystronic glass stand at glasstec 2010: Artur Mochnik and his Technical Plant Manager Tomasz Piechaczek were amazed by the eco'convect pre-nip, the core of the eco'lamiline that was presented for the very first time there." As we had the clear aim from the very beginning of manufacturing laminated glass in many varying sizes together with special constructions from the new unit, this revolutionary production technology came along at just the right moment for us," explains Tomasz Piechaczek.

Limitless laminated glass shape diversity
The laminated glass production has now been running on Mochnik's U-shaped eco'lamilin...
expand