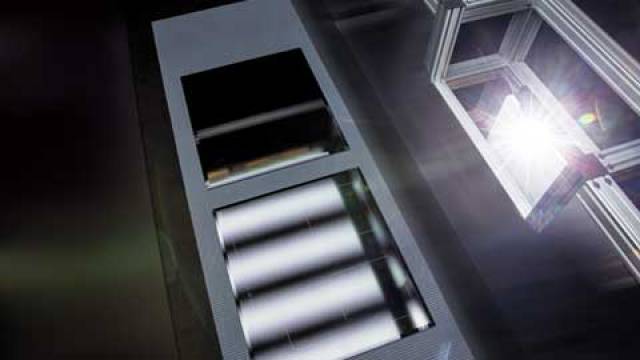 P²-3D for an inline inspection of form, position and evenness of glass plates in any dimension. Pictured here: examination of tiles
PRESS MEETING AT GLASSTEC
ISRA VISION's press meeting at glasstec gave a detailed update of this continuously growing company's more recent financial and product developments.
Speaking at the meeting, Enis Ersü, CEO at ISRA, stated that the company would in all probability achieve the important strategic goal of EUR 100 million profit in the fiscal year 13/14 - a first for the company in its 16 years of continuous profit growth, which also includes an average 25 percent increase in revenues for the year. In the meantime, ISRA confirmed the achievement, releasing a statement to the press. At the same time, ISRA reported 30 per cent increase in earnings and is now, said Ersü, focussing on double-digit growth.
ISRA VISION is, in fact, recognized as one of the leaders in machine vision and leader in 3D machine vision, which, as Ersü explained, starts straight from factory level.
With regards to the company's markets, Ersü told international press that Asia is now, for ISRA, the same 'size' as Europe, as far as sales are concerned, and is becoming the most profit-able area.
With 660 employees at 25 different locations, ISRA is also concentrating on high-end applications for niche markets, enhancing production yield, as well as increasing quality and automation levels.
ISRA's aim is now to surpass EUR 150 million, working on sustainability, quality and growth,
focussing on mega-markets and tomorrow's world with its increasing levels of technology.

UNIQUE NON-CONTACT 3D ...
expand


Download full article in PDF