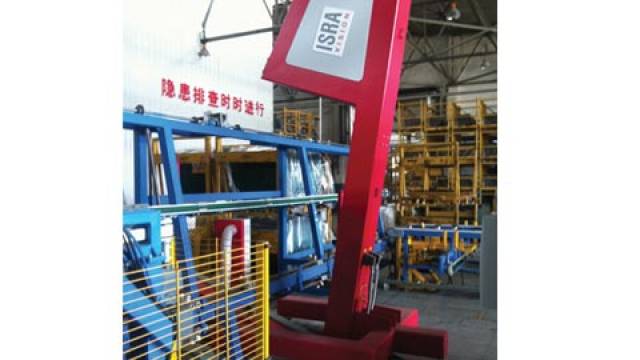 SCREENSCAN-Faultfinder with Online-Moiré-Technology for reliable and reproducible gauging with high resolution. The system as installed on Production Line 1 of Wuhan Yaohua Safety Glass
Safety in road traffic primarily depends on the driver's clear view. Windshields of curved glass may generate undesirable optical distortion effects resulting in impaired viewing. For car buyers, however, they are an important aesthetic property. Automobile manufacturers therefore impose stringent conditions on their suppliers: windshields have to meet precisely specified optical requirements and be perfect in quality.
The Chinese producer Wuhan Yaohua Safety Glass Co., Ltd. guarantees this quality level by applying innovative ISRA VISION inspection technology.
With SCREENSCAN-Faultfinder, the company has integrated a system for fully automated continuous in-line inspection of windshields into its manufacturing process. It measures the transmission optics of each glass and evaluates possible optical distortion resulting from the bending process. The integrated analysis tools are used to identify typical defect sources, which have enabled to achieve perfect delivery quality and significantly increased the efficiency of the Wuhan production facility.
With headquarters in the province capital of Wuhan and located in the centre of the Economic and Technological Development Zone, Wuhan Yaohua Safety Glass has been a key producer of safety and automobile glass for 20 years. The company is a member of NSG-Pilkington Group and one of the top five producers of automobile glass worldwide. Its list of customers includes reputable manufacturers such as Renault, Peugeot, Citroen, Nissan ...
expand


Download full article in PDF