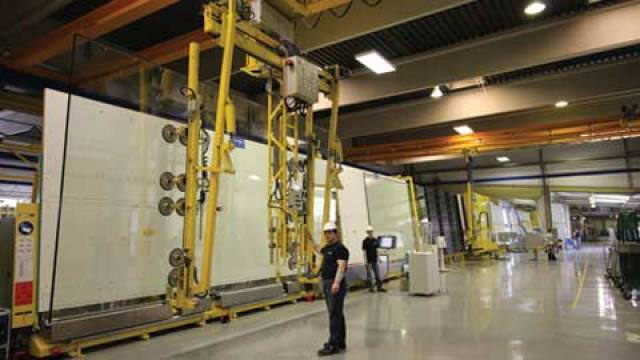 Bystronic glass B'JUMBO insulating glass line at Flachglas Wernberg
FLACHGLAS continues to place its trust in Bystronic glass
FLACHGLAS Wernberg GmbH is one of Europe's leading glass processors and has been located in the German town of Wernberg since 1938. With more than 600 employees, the company manufactures insulating glass, automotive glazing, laminated glass and tempered glass for use in façades, interiors and motor vehicles.
The insulating glass units are manufactured on one of the four Bystronic glass lines that FLACHGLAS Wernberg has installed in the 9,000-square-metre insulating glass production hall, in order to complement its portfolio.
The cooperation between FLACHGLAS Wernberg and Bystronic glass goes back to the early 1980s. This was when the former Lenhardt Maschinenbau GmbH (now Bystronic Lenhardt GmbH) developed the first sealing robots. Despite months of tests being run, company founder Karl Lenhardt, was not satisfied with the sealing quality until employees at FLACHGLAS Wernberg had provided decisive information necessary on the nozzle shaping which resulted in a design that is still in use today. The speed 'sealer sealing robot that is the top of the Bystronic glass model range puts in another appearance in the new FLACHGLAS Wernberg B'JUMBO insulating glass line, which was installed verty recently.
"The sealing robot is first class! The dual circulation provides a perfect sealing quality when sealing triple I.G. units," said Kai
Klinger, Project Manager at FLACHGLAS Wernberg.

Opting for Bystronic glass
The B'J...
expand


Download full article in PDF