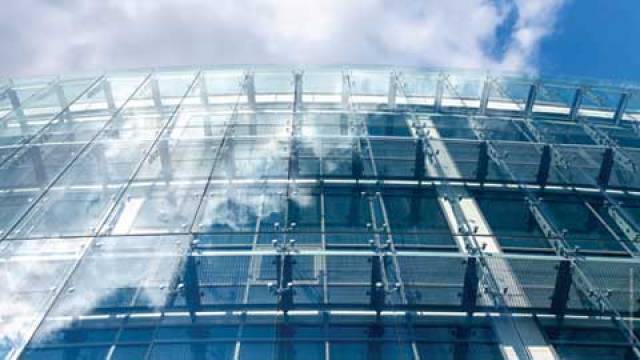 Guardian Industries: spectacular glass highlights on show
Advanced architectUral glass
SunGuard HD Diamond 66 is a new advanced architectural glass with a visible light transmission of 66 per cent and an outside light
reflection of 32 per cent. This high reflection makes any building shine bright as a diamond.
"We see a trend in the industry for high reflective glass combined with a high light transmission," said Volodymyr Shkurenko, Segment Leader at Guardian Europe. "We have successfully launched SunGuard HD Silver 70 and we now expand our range by adding SunGuard HD Diamond 66 to our High Durable portfolio."
Guardian SunGuard HD Diamond 66 is an ideal glass for architects looking to create a comfortable building with a modern bright façade and is a great fit for architectural projects across Europe. This coating can be produced on ExtraClear or on UltraClear float glass which allow for a very high transparency and colour neutrality when compared to standard float glass. Together with SunGuard HD Silver 70, architects have a bright architectural glass combined with high light transmission.
SunGuard High Durable products represent a new standard of coated solar control glass. Thanks to the durable coating applied using a sputtering process, these products are very easy to process and can be used monolithically on specific applications.
The SunGuard HD family is ideal for use in double skin facades, spandrels, ventilated glazing, balconies and louvre windows.

Double-sided anti-reflective glazing
At the other end of the reflect...
expand


Download full article in PDF