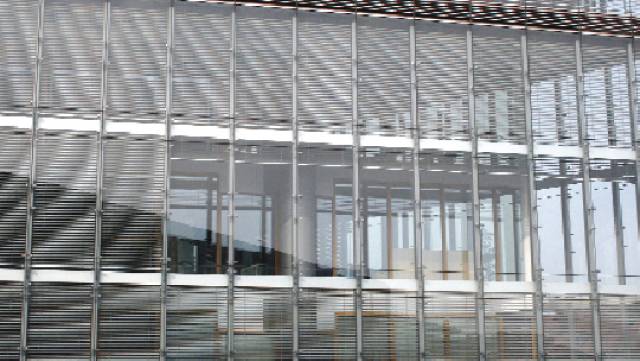 The double-shell façade at the Düsseldorf Stadttor consists of an outer glass skin and inner façade with wooden window elements
There is no break in the trend towards transparent glass architecture. All around the world, new buildings are being erected each day using architectural planning concepts based to a key extent on the performance of highly functional glass façades. In particular, in the area of impressive administrative buildings, architects like to rely on the application of large glass surfaces, because the transparency of the material lends their buildings a special lightness and seemingly merges the barriers between the interior and exterior.

The pros and cons of large glass areas
Large glass surfaces in the building shell are, however, not totally unproblematic. In winter, an insufficient insulation function in the façade area can produce an unpleasant cold-air downdraught for the user, in summer the interiors can heat up to an unpleasant level through lack of shade facilities. The consequence of these effects is increased heating or cooling requirements. A further problem is disruptive glare and dazzling effects.
The weaknesses stated can, however, be brought under control by using powerful functional glass and coordinated sun protection solutions. Today, due to statutory legal requirements, anyone who is installing large glass elements in façades must ensure that the façade system is energetically optimized within the framework of the overall building assessment. Thermal comfort within the building must also be guaranteed throughout all seasons.
In view of the high-tech components and ...
expand