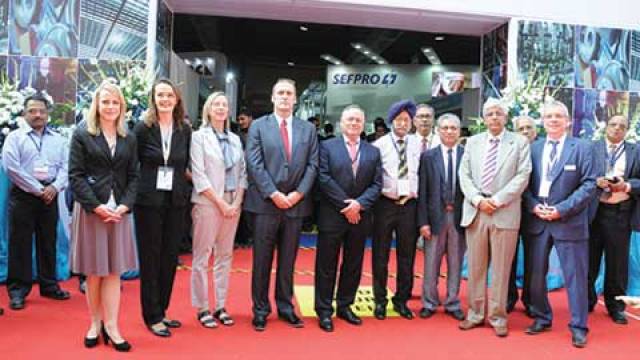 From left to right: Birgit Horn, Project Director glasstec Messe Düsseldorf Laura Biason, Vice Director GIMAV Ann-Marei Zwickirsch, Manager Exhibitions VDMA (Construction Equipment and Building Material Machinery) Udo Schürtzmann, Managing Director Messe
The fourth edition of Glasspex India – International Exhibition for Glass – Production, Processing, Products – was held from 13 to 15 March 2015, in Mumbai, where 130 exhibitors entered into dialogue with 3,222 trade visitors. Once again, the glass industry's platform in the Bombay Convention & Exhibition Centre hosted visitors who gathered information and entered into an exchange on the latest products and innovations from the sectors of glass manufacturing, finishing and glass applications.

Exchange of themes, contact-making and business deals
Despite the difficult market environment, the trade fair has established itself as a platform for the exchange of themes, contact-making and business deals on the Indian market. Exhibitors from 13 countries (India, Germany, France, England, Italy, Singapore, China, Taiwan, Czech Republic, Austria, Iran, Finland and the US) underlined their satisfaction with the quality of the visitors. Werner M. Dornscheidt, President and CEO of Messe Düsseldorf GmbH, values the Indian subcontinent as a venue for the event: "Despite the marked decline in the Indian glass industry over the last two years, India is a market experiencing strong growth and the glass industry is an attractive economic sector. Growth is already expected in the second half of this year. The rising standard of living in India is ensuring great demand for the material glass, which is being used in an increasing number of applications in daily life."

Accompanying con...
expand


Download full article in PDF