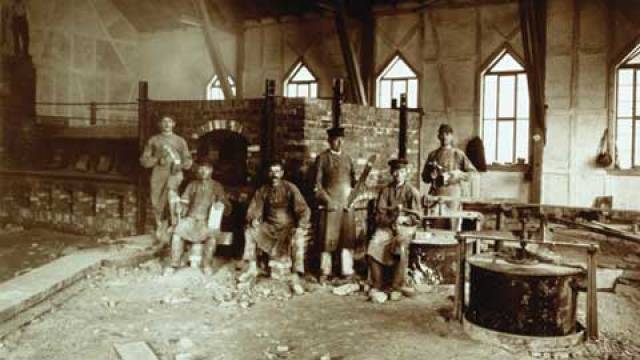 Master Mason Nikolaus Sorg (third from right) pictured in 1899
Nikolaus Sorg – glass melting and conditioning technology
For almost 50 years the name of SORG has been synonymous with innovative technology in the fields of glass melting and conditioning. However, it evolved from quite different beginnings.
In the latter half of the 19th century, the German state of Thüringen, a traditional glass-making area, was home to numerous small glass factories. In 1872 Master Mason Nikolaus Sorg founded his furnace building business in the village of Breitenbach, and this small but successful company remained there until after the Second World War, when Thüringen first became part of the Soviet Zone of occupied Germany and then part of the German Democratic Republic.
During the early 1950s the company moved to the West. The new location was Lohr am Main, a town that gave convenient access to previous customers, including the glassworks in Lohr itself (now Gerresheimer Lohr GmbH) and nearby Wertheim (Schuller, now part of Johns Manville and Schott).
Until the late 1960s the company was involved primarily in the provision of engineering (i.e. drawings) and building services (bricklaying). Then, as a result of several strategic decisions, initial steps were made in the development of its own innovative technology.
A central figure in this business transformation was Helmut Pieper, who joined SORG in 1969, originally to form an electric melting department. Shortly thereafter, he assumed responsibility for research and development in all areas, per...
expand


Download full article in PDF