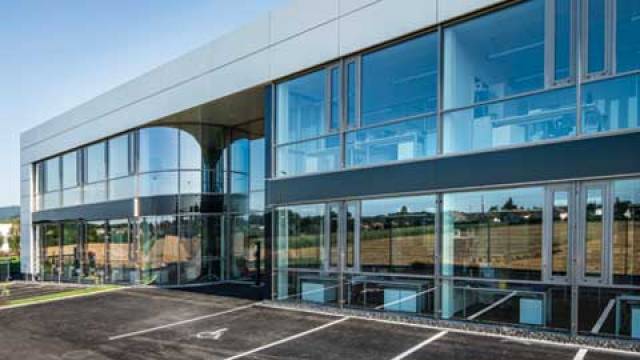 Ensinger: Thermix 'does the rounds' with 'rigid' warm edge spacers
A successful fit for curved insulating glass
A more interesting edge on things? Rounded edges are gaining increasing popularity in modern architecture. At the new location of Ensinger Sintimid in Austria, this look was used to create a special ambience in the entrance area: by creating a quarter turn, the glazed façade entices guests into the building, which sports a white and silver grey theme in keeping with the global company's corporate design colours.
"The linear contours which are a distinguishing feature of the building in Seewalchen have been deliberately softened in the entrance area," explains Michael Frey, the CEO of Architects Schmelzle + Partner. "In terms of styling, this has created a curve linking the world of sophisticated high technology and the people whose special expertise in high performance plastics is used here to develop specially tailored solutions for customers."

Bending the rules
The curved façade elements were produced by Wenna Glass in Linz. Every pane measuring 2,126 mm in length and between 845 and 1,940 mm in height was precisely curved to the required radius of 2,635 mm using a special hot bending technique. But there was a question mark over the process from the start: how to further process the Thermix brand warm edge spacers specified by the client to fit the triple insulating glass? Although these spacers can be bent when cold to produce frames, they are considered 'rigid' as they have been used to date predominantly for flat insul...
expand


Download full article in PDF